remo+
Indoor Chime
Indoor Chime
is rated out of
5
by
41
.
Description
Know when visitors arrive – even when you're away from your phone. Chime plugs into any USB power outlet and connects to all remo+ devices, so you can hear when someone is at your door without having your phone on hand. Power adapter included.
30 DAY SATISFACTION GUARANTEE
If you're not completely satisfied with Indoor Chime, you can return it for a full refund.

Wi-Fi Connected
Chime connects to your home Wi-Fi network and syncs with the remo+ app
Multiple Alert Tones
Choose from a variety of ringtones to select the right sounds for your home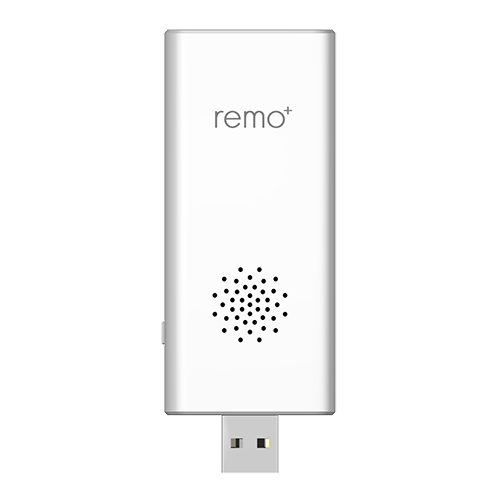 remo+ Compatible
Connect the chime with all your remo+ devices and get alerts for rings or motion alerts

Volume Control
Adjust the volume of your alert tones up to 90dB from the remo+ app
Dimensions
1.4 x 0.5 x 3.7 in.
Wi-Fi Network
WPA-PSK(AES/TKIP)
WPA2-PSK (AES/TKIP)
Warranty
Limited 1-year warranty
Audio Output
Speaker (up to 90 dB)
Operating Temperature
0°F ~ 122°F
Power
5V DC, 1.0A, or USB
Operating Humidity
20~85% non-condensing
Wireless
802.11 b/g/n 2.4Ghz
Storage Temperature
-4°F ~ 140°F
---
More from this collection
Rated

3

out of

5
by
evoXmr
from
Works great if you can get it setup
I couldn't get it to recognize the Wifi connection on any of our Android devices. It was hard to find info on why it wasn't working. I finally found a post that said it wouldn't work on Android so I had to borrow a friends iPhone to get it connected to my home wifi. Once it was setup, it works great!
Date published: 2018-05-30
Rated

5

out of

5
by
Marcel
from
Indoor Chime a Must!
With indoor chime you're allowed to adjust to different settings that are important and that is one the door chime and then to a motion detector chime which we really enjoy and you can make the different sounds and raise the volumes up and down .Buy both at the same time. Their customer support is outstanding only problem is it Pacific Coast time
Date published: 2018-05-29
Rated

5

out of

5
by
Anonymous
from
Easy
Works great. Had it set up in about 5 minutes from opening the package. Would recommend doing some special ring tones for the holidays or allowing full ability to customize and upload any ring you want via mp3 etc
Date published: 2020-09-15
Rated

5

out of

5
by
Msgoodstuff
from
Outstanding
I bought this chrome so I didn't like walking around holding my phone so I know when someone at my door or motion near my home. I'm glad Now when you buy the remo+ bell you get the chrime
Date published: 2018-07-10
Rated

5

out of

5
by
Felipe
from
Great product.Works as described.Easy to install.
I live on 2 floors and the sound of the original hallway mechanical doorbell ringer downstairs doesn't reach upstairs too well. I have this RemoBell+ chime plugged into an outlet upstairs (using a 5v 1A transformer plug from an old phone) and it works fine. I like the choice of ringer tones. Given the very competitive pricing on the RemoBell S, the $29 price tag on this device seems steep ... but otherwise, it's well worth having as I don't generally carry my mobile phone everywhere with me as many folks do.
Date published: 2019-05-21
Rated

5

out of

5
by
Brenda
from
Remo Chime
The chime is a great companion for the Remo doorbell. I missed a lot of the alerts because I didn't have my phone notification turned on. I don't have to be concerned about having my phone near me at all times. Thanks to the chime!
Date published: 2018-10-23
Rated

4

out of

5
by
R380
from
Nice to have
Just love the capabilities of the device. Very sensitive but nice to have all the settings so I can get the device setup to avoid false activations. One thing the device doesn't seem to know is when the scheduled times from night to day is supposed to happen, seems to prefer the night schedule better than day schedule. Not sure if the software is the issue. So to prevent the device from staying in night mode I just leave it in day mode. Great device I like using it very much.
Date published: 2019-12-25
Rated

5

out of

5
by
Todd
from
Very helpful
Very helpful. Much better than relying on phone only. Could use some more chime options though.
Date published: 2019-04-19
Can the chime be plugged into a USB wall outlet power adapter?
Can I use more than one chime in the same house? I would like to add a chime to every floor. Will the original door chime continue to work if I use this digital chime?
Yes, you can have 5 Remo+ devices tied to an account. This includes the Remo+ WiFi chime. Yes, if your original door chime is working now it will continue to work with the addition of the WiFi chimes.
Date published: 2019-08-27