remo+
EBL Smart Battery Charger
Description
Charges 2/4/6/8 AA/AAA Ni-MH/Ni-Cd rechargeable batteries
Automatically stops charging when detecting improper input voltage, defect, or short circuit or non rechargeable batteries
Prevents the batteries from over-voltage, over-current or overheat
Shortens charging time – AC 100-240V 50/60Hz input, 2.8V DC output (most similar chargers are 2.4V)
Protect batteries against current fluctuation through constant current charging
*Not intended for use with DoorCam batteries
30 DAY SATISFACTION GUARANTEE
If you're not completely satisfied with EBL Smart Battery Charger, you can return it for a full refund.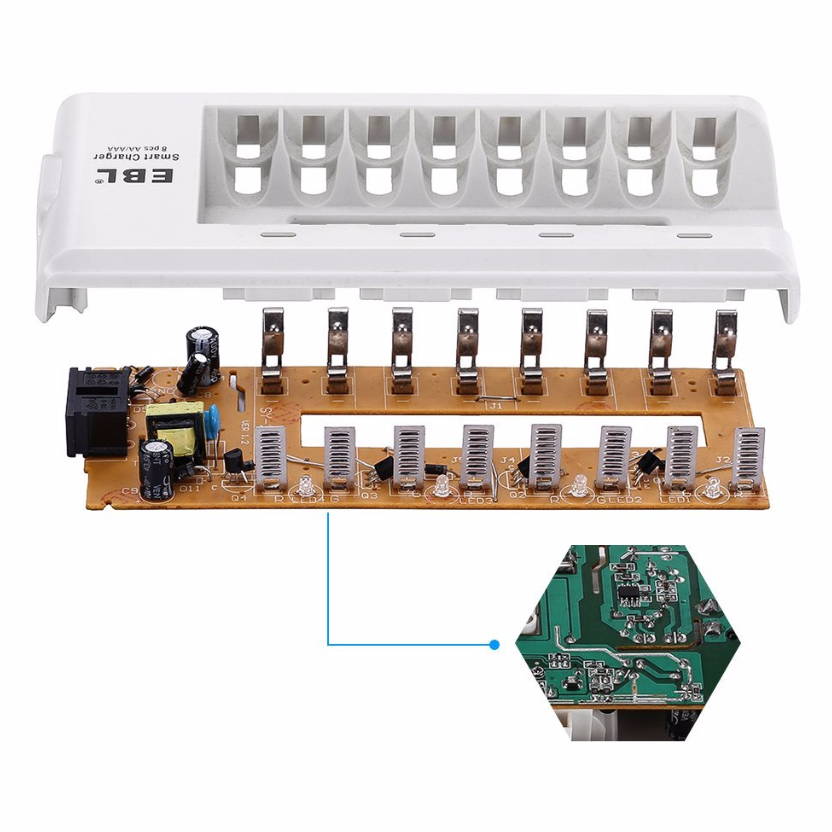 Advaned MCU Control With Reasonable Circuit Layout
Negative delta V (- ∆V) cut-off function,automatically cut off when fully charged

Input and Output:
Input: AC 100-240V AC 50/60Hz. Worldwide voltage
Output: DC 2.8V 1000mA,0.4V output voltage more than most similar charger means faster for charging
 
Charging Time Table:
2 to 8pcs AAA 500-1200mAh: 1.5 - 4 hours (180mA output)
2 to 8pcs AA 1300-2800mAh: 1.5 - 6 hours (200mA output)
Unique Trickle Charge
Adopting -∆V intellectual cut-off charging method, automatically turn to trickle charge, overheat-detection to prevent over-charging, short circuit protection and reverse polarity protection

Attention:
Please ensure the battery installed is correctly: make the +/- pole of the battery is match for the +/- pole of the charger.

Never mix charge different type and different capacity of batteries under the same LED indicator

Using environment: 0℃ to 40℃, it is normal phenomenon that the battery is warmer than room temperature when charging

Do not disassemble or reassemble the charger by yourself for safety reason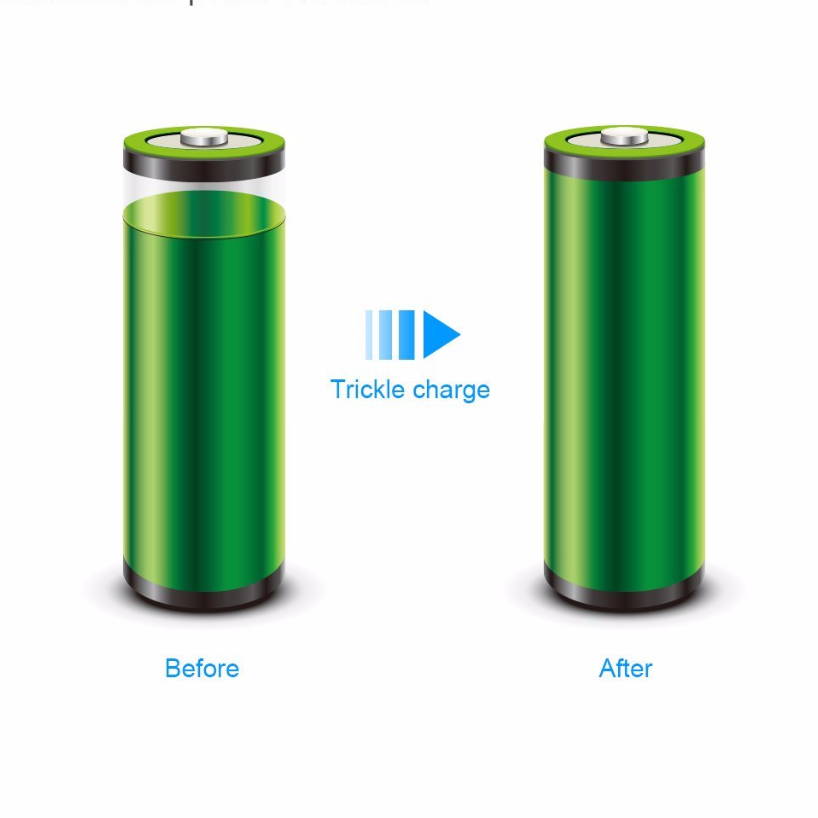 Better Heat Dissipation

Heat dissipation design help the EBL 808 battery charger has a better function: overheat-detection to prevent over-charging.
FAQ
Compatibility:
Can charge both AA and AAA Ni-MH Ni-Cd rechargeable batteries
*Does not charge alkaline or Lithium batteries
**Cannot be used on DoorCam batteries

How many batteries can be charged at a time:
2/4/6/8 AA or AAA batteries
Need to charge batteries in pairs – do not charge uneven amount of batteries
4 LEDs show the status of charge – never charge 1 AA + 1 AAA together at 2 slots which are controlled by 1 LED
How does the Auto & Smart Indicator work:
Red means charging
Green means fully charged
Package:
1 x EBL 808 battery charger
1 x user manual
1 x AC power cable
---
More from this collection